At FootingFirst™ we do not simply sell footing; we sell our service. We live and breathe arena surfaces, and we are horse people, too. Our strength is not only in creating footing, but knowing what works best for every individual situation. We are happy to suggest what is right for each customer, from a small lesson barn to an Olympic-level training facility. Below is a list of additive services that we offer in addition to the installation of world class riding surfaces.
The Equestrian Buffer Underlayment System (E.B.U.S.) is the latest advancement in high quality arena surfaces. The system consists of subterranean mats made of recycled rubber, which we install beneath our proprietary dust-free or water-dependent footings. E.B.U.S. effectively reduces concussion and vibration, minimizing stress on joints and soft tissue, and allowing equine athletes the ability to perform at their best.
For more details on E.B.U.S., please click below.
Drainage is one of the most important aspects to consider when building an arena. Water needs to move efficiently and evenly off the surface of the arena without causing erosion.  This can be achieved through various methods depending on what type of footing is being used and what type of drainage system is required in a particular geographical location. Underground watering systems, as well as over-head watering systems, require drainage to work properly. Take a look at the number of ways we can move water on, off, and around your footing.
OT-40 Concussion/Traction Mats installed by E=MC Arenas.
It is paramount to have an excavator who is not only capable of doing arena work, but someone who is an expert arena installer.  Though the removal of the top surface and grading of the sub-base requires less precision, correct installation of the base materials and drainage are paramount to proper performance. If one step is performed improperly, the integrity of the arena can be lost.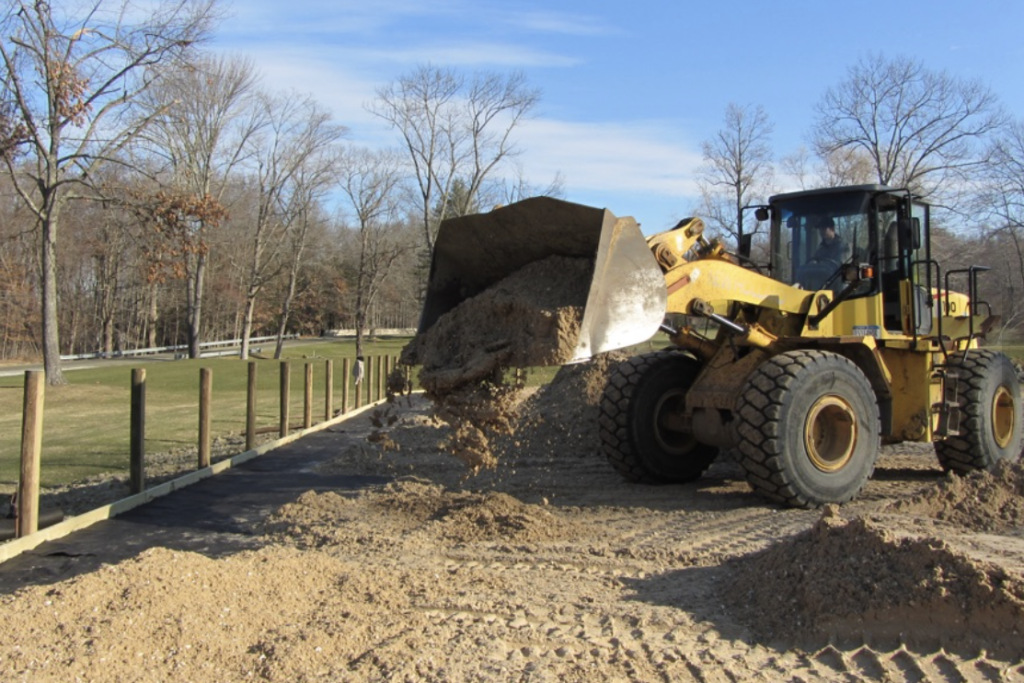 At FootingFirst™ we create riding surfaces. Using top-quality materials, we are able to manufacture the ideal surface for every rider in any area of the country. We manufacture our own blends at our four mixing location sites, and independently quality test all of the materials we utilize to ensure incorporation of only the highest quality "ingredients."